Full Mouth Reconstruction
When you're missing all your teeth or have advanced gum disease, you may feel self-conscious about your appearance.
If you're dealing with pain, an inability to speak or eat, or low self-esteem due to your oral health, we can change that!
At Fort Bend Dental in the Missouri City, TX, area, we can restore your smile, functionality, and confidence with full mouth reconstruction.
What Is Full Mouth Reconstruction?
Full mouth reconstruction is a rejuvenating dental treatment designed to replace missing teeth, treat gum disease, and enhance the health of your mouth. Each plan is tailored to your specific needs, budget, and appearance goals.
A full mouth reconstruction uses several restorative dentistry procedures, including:
Restore Your Smile. Revitalize Your Confidence.
Resume Your Life.
See the Difference Our Dentists Provide
With Full Mouth Reconstruction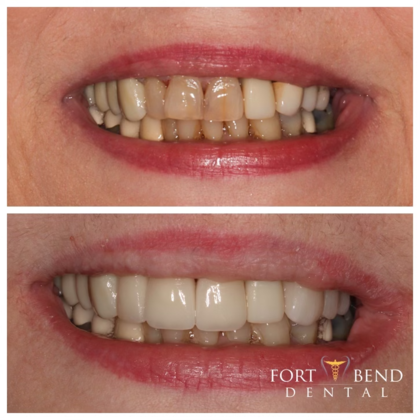 Dental Crowns
If you've dealt with severe tooth decay, a fractured tooth, or a root canal infection, you may already know what a dental crown is and how it works.
Made of porcelain or metal, these dental caps mimic the appearance of a natural tooth to restore normal dental function. Crowns are an ideal restoration to use when fillings, inlays, or onlays are not sufficient.
Fort Bend Dental has good news for patients concerned about treatment times. Our practice uses a CEREC® milling machine, so we can easily create effective same-day crowns. This minimizes your wait and eliminates the need for a temporary crown.
Fort Bend Dental Truly Cares About You
Hear From Our Missouri City Dentistry Patients
This is hands down the best service I've ever had! Got me in the same day and everyone from the clerks to the dentist were beyond nice! Definitely recommend this place to all.
View on Google
The staff at Fort Bend Dental are always so kind. Everyone remembers something I told them on my last visit and asks me about it. It's so nice to go to a place that actually cares about who you are.
View on Google
Dental Bridges
If you are missing a tooth or a few teeth, our dentists may suggest a dental bridge. The team at Fort Bend Dental offers both traditional bridges made with the CEREC unit and implant-supported bridges.
A traditional bridge consists of an artificial tooth (a pontic) that is bookended by dental crowns. These crowns are used to cap the natural teeth on both sides of the tooth gap.
Implant-supported bridges consist of one-to-three replacement teeth that are attached with dental implants, which are surgically placed artificial tooth roots. While implants require a larger investment in your smile, the results they create can change your life completely.
Dental Implants
Dental implants are artificial tooth roots that are anchored into the jawbone and gum tissue. When these titanium screws and posts have fused with your jawbone (a process called osseointegration), they are stable enough to support different kinds of restorations and dental prosthetics.
Because of their versatility, dental implants can support a dental crown for single-tooth replacement, a dental bridge to replace a few missing teeth, or dentures to address substantial tooth loss.
Ready to Make a Change?
We Can Help!
Laughter. Conversations. Sharing a meal. These are ways we bond with others. However, these activities can feel embarrassing or even impossible for those with substantial dental health problems.
If this sounds familiar, Fort Bend Dental is here to tell you that a full mouth reconstruction can offer relief.
Our dentists serving Missouri City, TX, and surrounding areas want you to reconnect. A full mouth reconstruction can revitalize your smile so you can feel confident again. Contact us today or call us at:
Linda's Story
The Incredible Impact of Full Mouth Reconstruction
We Have Sedation Options for Anxious Patients
At Fort Bend Dental, we're honored that you've chosen us for your full mouth reconstruction, and we strive to match your courage in getting the help you need.
If you feel vulnerable, anxious, or scared while seeing the dentist for a full mouth reconstruction, Fort Bend Dental provides three types of sedation depending on the procedure and your needs: nitrous oxide, oral sedation, and IV sedation.
These sedation methods will put you in a relaxed state during treatment, keeping you safe and comfortable the entire time.
We Offer Financing
And a Membership Plan
Full mouth reconstruction and restoration can truly change your life. Fort Bend Dental in the Missouri City area wants to remove financial obstacles preventing you from seeking treatment.
We offer financing options like CareCredit® to ensure that you can enjoy a dazzling new smile. We also have a membership club that can help you afford the dental work you need, maintain your results, and enjoy good oral health.
"[Full mouth reconstruction] is an investment in your future as a happy and healthy person."

Fort Bend Dental Patient Linda Levey