Millions of Americans suffer from dental anxiety. These patients may put off important treatments for years.
Fortunately, our team at Fort Bend Dental provides nitrous oxide, a safe, reliable form of sedation dentistry that can benefit adults and children alike.
So how can dental sedation help you?
What Is Sedation Dentistry?
Sedation dentistry refers to the use of anesthesia during dental procedures for the purpose of helping patients enter a more relaxed and comfortable state. Sedation is often used during extensive treatment that requires a significant amount of time in the dental chair, such as a wisdom tooth extraction. It is also beneficial for patients who have difficulty controlling their movements, such as those with cerebral palsy or Parkinson's disease.
Nitrous oxide has a mood-altering effect that relaxes the body and makes patients feel more at ease.
Although sedation dentistry is sometimes referred to as sleep dentistry, it is important to note that patients remain conscious during treatment. Rather, the sedative medications simply help induce a state of deep relaxation. As a result, patients can enjoy a less stressful, more comfortable experience.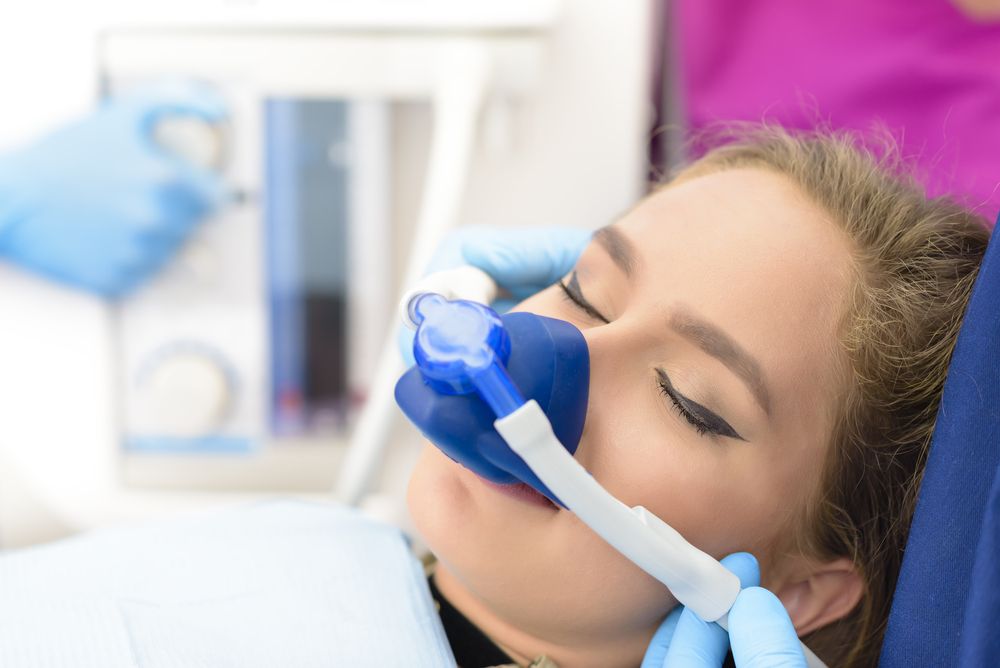 How Nitrous Oxide Works
Nitrous oxide is administered via inhalation through a nosepiece or small mask. Sometimes known as laughing gas, nitrous oxide has a mood-altering effect that relaxes the body and makes patients feel more at ease. Under this type of sedation, most patients feel a pleasant, heavy sensation, as though they are sinking into the chair. Some may experience a tingling or numb sensation in their fingers and toes. When administered by a medical professional, nitrous oxide causes no complications or harmful side effects.
Benefits
Nitrous oxide is one of the safest forms of sedation dentistry available. Because the dosage can be adjusted at any point, patients can remain in a comfortable state throughout treatment. In addition, because the gas consists of nitrous and oxygen – two common elements – patients cannot have an allergic reaction to it. Additional advantages of nitrous oxide sedation include:
Quick recovery: In contrast to other sedatives, the effects of nitrous oxide can subside in as little as five minutes. Patients who choose this form of sedation can drive themselves to and from the dental office.
Fast onset: When nitrous oxide is administered, it takes only one to two minutes to feel the effects. Patients with anxiety can start to feel relaxed almost instantaneously.
No needles: Some analgesics, such as IV sedation, require injections. Because nitrous oxide is administered via inhalation, no needles are necessary.
Conscious sedation: Patients who receive nitrous oxide will be in a relaxed state. However, because they remain conscious and aware of their surroundings, they will still be able to follow instructions or talk to the dentist.
Decreased gag reflex: Patients with a strong gag reflex can benefit from the use of nitrous oxide, as it can temporarily reduce or eliminate gagging for a more comfortable experience.
Learn More about Sedation Dentistry
If you would like to learn more about nitrous oxide sedation, reach out to our office. As always, we are here to answer any questions you may have regarding your treatment. Contact us online anytime or call our office nearest you.